15in Metal Teal Sunglass with Gecko Wall Accent
$21.99
Sale: $19.79

Save: 10% off
---

14in Green Metal Sunglasses with Parrot Wall Accent
$21.99
Sale: $19.79

Save: 10% off
---
FAQ - PayPal
What is Pay Pal? Pay Pal is safer way to shop online. It's simple, really. Pay Pal processes your purchase credit card transactions and also offers you an option to join PayPal. This way when you shop online Pay Pal protects your credit card information instead of giving your information out to numerous online line stores.
Do I have to join PayPal? No, joining PayPal is just an option. You can use your credit card without joining PayPal. Though we do use PayPal to process all our online sales transactions including your credit cards.
What Credit Cards can I use? We accept Visa, MasterCard, Discover or American Express when you purchase online through PayPal.
How do I use my credit card? First you must register to our Web site. Choose any of our wonderful products. Go to your shopping and click on Check out. You are taken to the checkout area. Complete the simple 3 step process and then you will be connected to PayPal site payment page. At the PayPal payment page you are given 3 choices 1) Join Pay Pal, 2) use your Pay Pal account 3)I do not have a PayPal Account. Click on; I do not have a PayPal account. This will take you to the credit card page where you can use your Visa, MasterCard, Discover or American Express credit cards for your payment. Be sure when you have completed your payment through PayPal you click on, return to Pottery House. This will complete your Transaction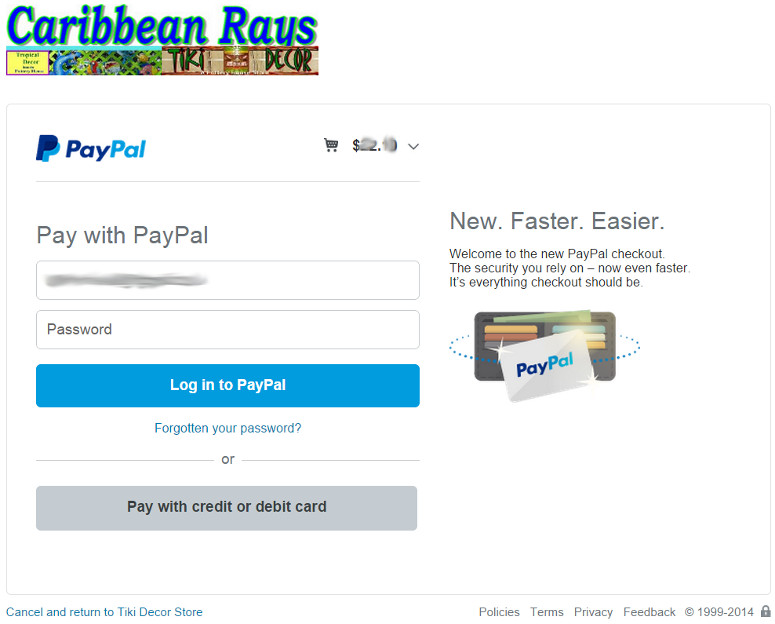 Does the The Pottery House keep my Credit Card Information? No, we do not even see your credit card information. Your entire credit card transaction is through Pay Pal.
Can I order my items any other way? Yes, you can call our store at 1-941-896-8810 Monday through Saturday 11am to 4pm and order over the phone.